A story about diversity, friendship and self-love
Braiding
Crowns of Friendship
by Christine M. Aldrich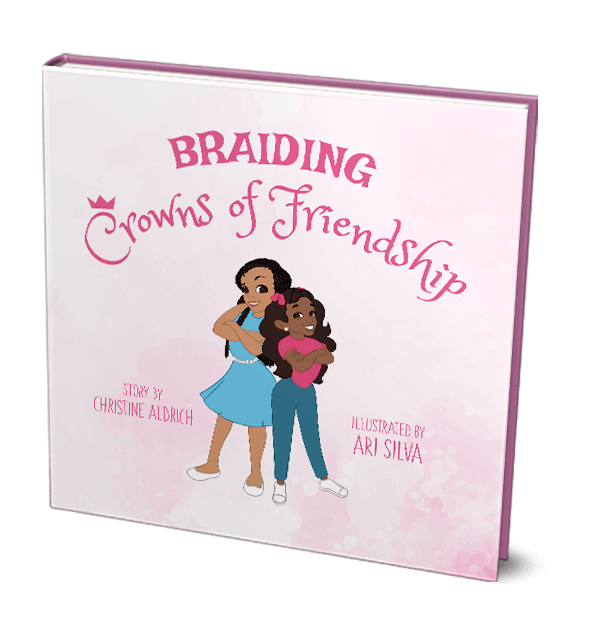 Braiding
Crowns of Friendship
by Christine M. Aldrich
Braiding Crowns of Friendship by Christine Aldrich is a children's book about an African American girl who learns to love her hair, and in doing so she helps to teach others about the beauty in diversity. As an African American, Christine decided to share her own life experiences when writing this book to ensure authenticity in her storytelling. Indeed, the friendship described between these pages belongs to the author and her real-life best friend, showing us all what a powerful gift a true friend can be.
Braiding Crowns of Friendship is a story that celebrates love, hope and diversity. It is a reminder to girls everywhere that they need to love their beautiful crowns and wear them with pride.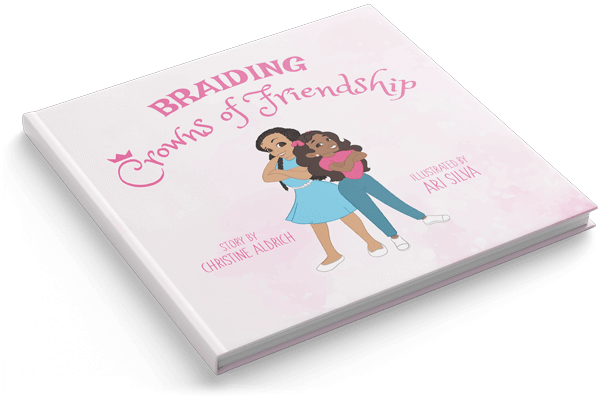 Minolie Gordon
Compliance and Support Group Administrator UCLA
'Braiding Crowns of Friendship' is a beautiful story of friendship, family and perseverance. It takes a village, and sometimes one "little friend" to make a difference. Read More…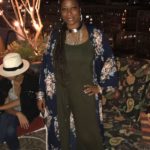 Nadra Marts
Teacher, Barak Obama Charter School
As an educator of elementary and secondary children, I will definitely be adding 'Braiding Crowns of Friendship' to my classroom library both for reading aloud to the children and for their own independent reading. Read More…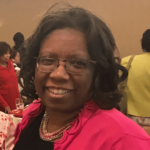 Linda Owens
Chief Facilities Officer Compton College
Christine, what a wonderful children's book! It reminded me of my first days in a new school. The messages of acceptance and loving yourself are so positive. This is a great book to read to children of all ages!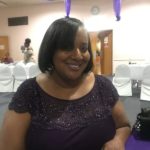 Zolita Fisher, Ph.D.
Educator
'Braiding Crowns of Friendship' by Christine Aldrich perfectly addresses issues of friendship, faith and culture in a way that will allow young readers to relate to times in their lives where they may have felt different. Read More…
"Christine Aldrich celebrates diversity in her debut children's book, 'Braiding Crowns of Friendship'. She shares a wonderful story of self-love as the main character learns to value and appreciate her beautiful braids. As a teacher, I believe this book can impart many valuable lessons in classrooms globally."
"Christine Aldrich is a wonderful writer, who picks up on themes of diversity and being unique. As a teacher and a mom to multicultural children, I believe 'Braiding Crowns of Friendship' is a must-read for children across the globe. Each page hones in on family, love and making a difference in the world. I enjoyed every part of this story, which takes the reader on a journey of discovery."
"Braiding Crowns of Friendship tells a story that both children and adults can relate to.It reminds us that differences should be celebrated! Christine, who I've known for 40 years, wanted to share her story, so that children, specifically, could know the importance of building strong friendships as well as surrounding yourself with folks who praise you for being you. Christine is one of the most passionate authors I know.She wants to include everyone in her journey, and asa result she decided to share her voice.I admire Christine's passion, desire and courage to bring her first book to publication. Anything is possible when you put your mind to it.We should never feel uncomfortable in our own skin.Thank you Christine, for sharing a story that makes me feel that being myself is not just okay, but is necessary for me to live my most authentic life.."
"I can't wait to read 'Braiding Crowns of Friendship' to my 3-year-old daughter, who is a black and brown child (Sri Lankan and Jamaican). I want my child to know that she is "different," and that "different" is not a bad word. Everyone has differences, and we need to learn to celebrate those. This book will empower my child and other children to embrace diversity in life. I hope my daughter finds her "Little Friend" to share memories with throughout her life. Having strong family and friends is important for our children to become strong and confident men and women. You have done a great job, Christine Aldrich, in creating a book with so many strong themes for our kids to learn from."
"Wow! A book that evokes emotions and makes you ponder, what will happen next? This is a brilliant body of work that helps children and adults alike, see life from a different perspective that hasn't been shared in mainstream writing. It carries a feel-good factor, making it appropriate for all ages, and above all, a book that teaches kindness and friendship. Christine has hit it out of the ball park with this one! If any child suffers from the typical anxiety of going to school on their first, second or any day, then this is a must read! It will allow them to conquer their fears and become well-rounded, confident individuals"
"As a mother to children of mixed race, an entrepreneur and fellow writer, this book hits all of the points in teaching the important lessons while still making it fun. It's so important to model to our children and to remind ourselves, the importance of inclusivity and kindness, especially with today's climate surrounding the hair of people of color. Christine is the perfect author to help all of us learn these important truths with her first children's book, 'Braiding Crowns of Friendship'. It is truly a gem you'll pull from the bookshelf for years to come."
"How wonderful to see young people in the book solve a negative experience with support and in such a positive way. May it inspire other people and young people to come to similar, empowering solutions!"
"It looks like Christine Aldrich is a natural storyteller — succinct and focused. Plus, she has great insights on social issues, and she has that rare ability to translate to all audiences.Her spotlight at this point in her career as an author is clearly on the right age group, since children are our future. A clear winner!"
"After reading 'Braiding Crowns of Friendship', I feel that Christine displays tremendous talent in storytelling. She makes the story come to life in a very ingenious way. It really is a cute story for young children to read. It points out that everyone is different and that's okay!"
In a county as multi-cultural as ours, it is vital to offer children an opportunity to see realities and environments different from their own. At a time when we are seeking to expand our perspectives into experiences that we may otherwise never know, Ms. Aldrich uses glimpses into someone else's story — her own childhood story — as an integral way of creating more accepting and open minds and hearts. Reading this book with your child celebrates diversity, and it will help your young one recognize that what is seen as outwardly different can just be a slight variation in the broad spectrum of humanity; that "different" is beautiful.